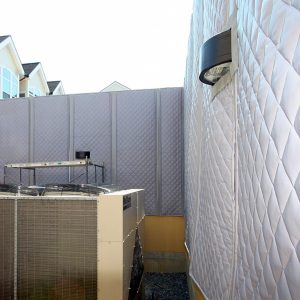 From large industrial chiller and air conditioner noise down to small residential heat pump and air conditioner noise, problems and discomfort are almost always associated with the annoying situations that the noisy units create.
To get right to the point, we have your solution: Acoustical Blankets
Applicable in both indoor and outdoor situations, our AudioSeal® Acoustical Blankets can absorb noise, block noise or both.
First, we'll show you an outdoor large-scale chiller unit application. The ABBC-13 acoustical blankets used here absorb noise and block it from passing through. In this application we used them to cover the brick walls surrounding a chiller unit that serviced a retirement community. Directly on the opposite side of the brick walls were two residential buildings and a courtyard.
The noise the chiller emitted was reverberating between the walls, which caused the noise to not only become louder, but also linger for longer periods of time.
 Next, we'll show you a smaller-scale blanket application, the blanket enclosure.  Blanket enclosures can be used to reduce noise indoors or outdoors.  This includes air conditioner noise, generator noise and, in this application, indoor mechanical noise.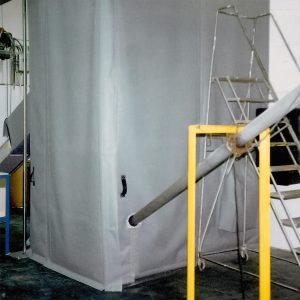 This acoustical blanket enclosure was used to quiet a shaker table, which was used for settling desulfurizer material within metal canisters.
The facility manager sent us this message after he applied the enclosure to the noise source:
"The noise enclosure is a huge hit with our Mfg team.  We've reduced the noise level from 102dB to 72db – well under the 85dB OSHA permissible exposure limit.  This allows the work to be performed during day shift rather than swing, reduces the need for double hearing protection. It also avoids the required periodic audiograms we were going to have to perform."